Hi
I use OO on a laptop.
During the day, it is plugged on a video projector (duplicate display of the screen).
During the evenings, I plug it on an HDMI screen (external screen only).
In the meantime, I hibernate my computer.
I keep the files opened as long as I need them.
Quite often, when a file has been opened for a while (and gone through several hibernation & change of display resolution of the computer), after a while it is impossible to display it anymore.
At first, when I try to display it by clicking the thumb view in the Windows task bar, nothing happens.
Then, if I display the files thumbviews, the one for the file is blank: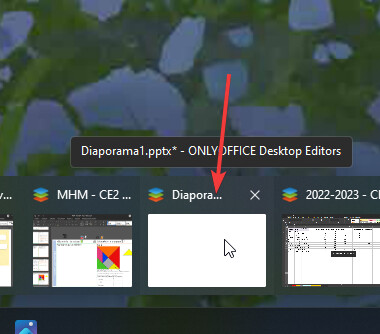 The only solution I have is to click the window, then do ALT+F4.
There I get the "do you want to save the file" pop-up, I can save the file.
The file is ok and can be opened again.
Note that not all the OO windows are affected at once.
As you can see on the screenshot, other file are perfectly usable.
In my opinion, there is a glitch in the display functions of OO which sometimes does not handle correctly the hibernation of windows (it is when I wake up the computer that the problem occurs).
I hope the description is clear.
Thanks.