Why do I open old document formats, such as ppt, doc, xls, which can only be viewed but not edited?
The native file format of ONLYOFFICE Workspace documents is OOXML (.xlsx, .docx, .pptx). It means that in order to edit .xls, .doc and .ppt files you have to convert them into corresponding OOXML format.
With the latest version of Workspace you can either click on the

icon next to the file to convert it or left-click the file itself and the next window will pop up: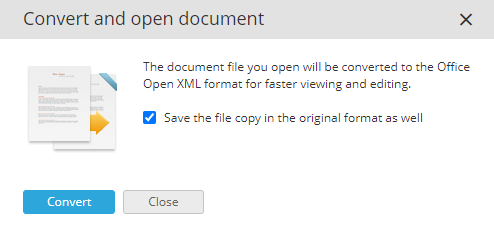 OK, I see! Thank you. I'm sorry that I didn't reply to your message in time because I was too busy recently!