Do you want to: Report a bug
OS version: Win 10 Pro 22H2 19045.3570
App version: 7.4.1.36 → 7.5.0.127
Downloaded from: ONLYOFFICE website
Hi Team,
The last upgrade, effected this morning, failed to complete as well, but as there is no specific ticket, I guess it was mentioned on a different ticket relating to another matter.
The download did complete, at least according to this display;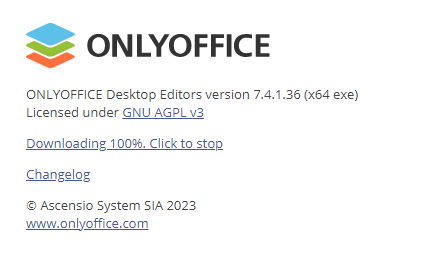 but did not detect completion and run the installer.
… and like last upgrade, the application was left with the prior and latest versions in the application storage area.


The resolution was same as last time too.
I removed the Updated version, the whole path.
Downloaded the new version from the website
Ran the new installer
… and, of course, over-wrote the en_US template files with my custom en_AU versions, but that's a me thing as I want Australian dictionaries, not the US English versions.
And were back on track!
Maybe it will work next time. I noticed that the screen had changed with this update. That big blue button is distinct.