Do you want to : Ask a how-to question
Document Server version : 7.1.1
Type of installation of the Document Server (docker, deb/rpm, exe) : exe
OS : Windows 10
Browser version : Chrome version 104.0.5112.102 (Build officiel) (64 bits) and Firefox version 103.0.2 (64 bits)
Hello,
I installed OnlyOffice DocumentServer in order to use it for managing a symfony project. When I try to edit a word, excel or powerpoint document, an onlyoffice page opens, but the page never finishes loading. There are no errors in the console.
You will find a screenshot (can't put more) below to illustrate my proposals: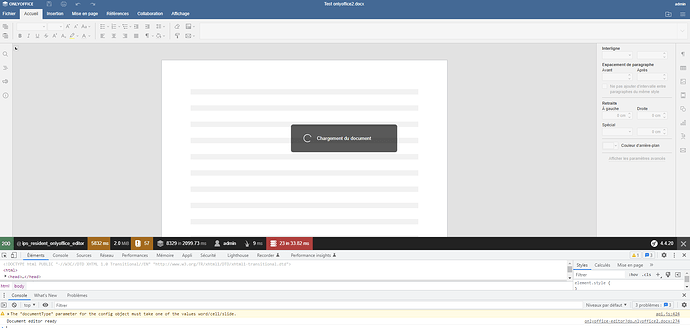 I can't find any similar topic in my internet searches. That's why I turn to you hoping that you can tell me if it comes from my installation of Onlyoffice or from my symfony project.
Yes, I have integrated Document server to my own self-written storage.
I use this guide for Document server installation : Installing ONLYOFFICE Docs for Windows on a local server - ONLYOFFICE
I don't have a "Ascensio System SIA" folder in Program Files.
Thinking well, I installed DocumentBuilder folder at the root of the ONLYOFFICE folder. Maybe it was a mistake.
Coralie