Hello friends.
I seem to not get a grip on this, maybe it's a bug: The navigation on the left bar doesn't work for me when I view my doc online. The desktop version that I view in MS Word has headings that I can navigate in. To show you, this is an example doc I just created and where I used the default headings to format.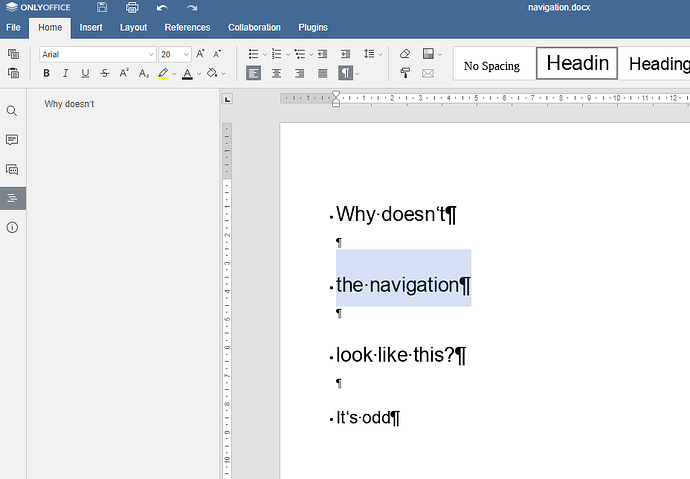 In this doc, I used the default headings, Heading 1 for the first 3 lines, and Heading 2 for the last line ("It's odd"). However, only the first line "Why doesn't" appears in the navigation. When I play around with the headings, sometimes a little arrow-thingy appears next to the first heading but clicking it doesn't unfold any of the lists or sub-headings.
More sadly, in my real document I'm writing on- and offline; but I am sharing it in the online, browser-version with colleagues. There are a lot of formatted headings in the offline document which I open in MS Word. However, in the browser doc, the navigation just says "Beginning of document".
Does anyone know how to fix this so we can navigate in the document in the browser?
Application: ONLYOFFICE/6.2.1.24
OS: Windows 11 Pro
Browser version: Chrome Version 104.0.5112.81