We are trying to generate some documents that contain tables and while we can get them to render well in OnlyOffice, we are having issues with the compatibility for users who might want to open these resulting .docx files in Google Docs and Word (to a lesser extent).
https://api.onlyoffice.com/docbuilder/textdocumentapi/apitablepr/setwidth
Taking this example from your website - it obviously works fine in the inline viewer.


However, on Word this appears as: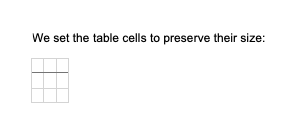 And, on Google Docs this appears as:



(also green for some reason relating to the underlying style - not so concerned about that)
In our own examples, Word does a little better when it has content in the cells but Google Docs really fails badly and will limit itself to a fixed width table covering part of the width only.
We tried setting some of the individual cell widths and changing from percentages to twips etc.
We are trying to use DocBuilder to create templates that users can edit in their own preferred editors. Is there a recommended way of getting consistent column widths in tables that will work across the major editors?
Many thanks in advance,
Dave