Hello,
i'm setting up an onlyoffice comunity edition instance and i'm experiencing some strange issues:
I can got to the "homepage" then click on "Go to test example". No trouble. But, i can't create a new doc. For instance, if i upload a docx, it is imported without trouble, but i can't open it (but i can download it). When i click on it, a new window is opened with the several toolbars and after a long time with "Loading document", the process stop and the message: "The document could not b saved…" appear and then the following message: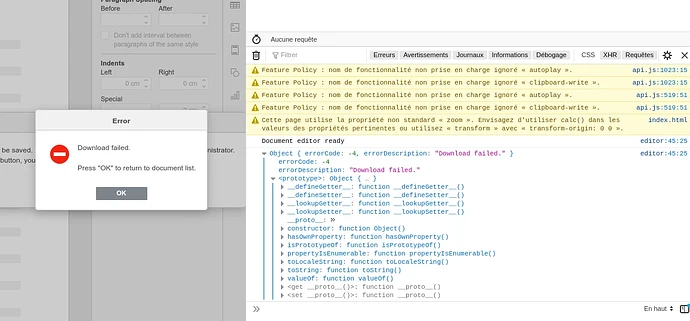 In the Network section of the page, there is no error.
When i search the logs, the only thing i found is in
/var/log/onlyoffice/documentserver/converter/out.log


The setup is:
onlyoffice run in a debian vm: "Debian GNU/Linux 12 (bookworm)"
There is an nginx reverse proxy behind
redis is on a separate jail on the sam host (wich run FreeBSD 13.1)
I'm lost actually…

Thanks for your help !
PS: I'm not sure i've posted the message in the right forum, sorry for that.