Hi,
I'm using Nobara 38 (based on Fedora) with KDE and installed OnlyOffice (Flatpak version) from the Discover page. When I open the app, it stays open for about 10 seconds and then closes on its own.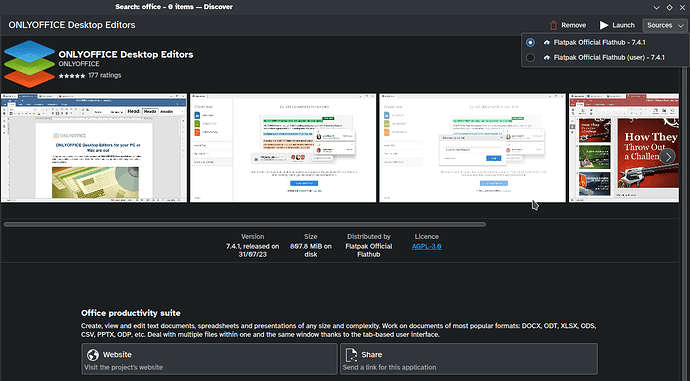 I tried uninstalling, removing user data and reinstalling but it didn't work.
When I first installed it, I got a popup from KDE saying that it's running in the background, which I didn't take any action on. I got the same popup when running Nextcloud, another Flatpak, and clicked on Learn More and allowed to run it. I didn't do that for OnlyOffice.
For those 10 or so seconds, the app is functioning normally and I don't see any other issues. I have no idea why it's crashing. Or if it's being interrupted by KDE somehow.
Below is the neofetch output of my system and a recording of what's happening–
OS: Nobara Linux 38 (KDE Plasma) x86_64
Kernel: 6.5.9-200.fsync.fc38.x86_64
Packages: 2796 (rpm), 6 (flatpak)
Shell: bash 5.2.15
Resolution: 1920x1080
DE: Plasma 5.27.8
WM: kwin
Theme: [Plasma], Breeze [GTK2/3]
Icons: [Plasma], breeze-dark [GTK2/3]
Terminal: konsole
CPU: AMD Ryzen 5 3600 (12) @ 3.600GHz
GPU: AMD ATI Radeon RX 6600/6600 XT/6600M
Memory: 2770MiB / 15898MiB

Thank you.