Hi all and thanks a lot to anyone reading this (* ˘⌣˘)◞
Some context :
ONLYOFFICE cloud: CE docker version 7.0.1.37
NC ONLYOFFICE Client App : 7.3.2
NC 21.0.9 (for now)
sudo docker exec oo sudo supervisorctl status
ds:converter                     RUNNING   pid 1193, uptime 0:19:10
ds:docservice                    RUNNING   pid 1186, uptime 0:19:13
ds:example                       RUNNING   pid 7415, uptime 0:00:16
ds:metrics                       RUNNING   pid 784, uptime 0:25:27

It seems NC ONLYOFFICE Client app is « working » fine as I don't have any error message when I configure it, I don't need to set any external specific domain or https as I wan't OO working within my local network. I access NC from the Internet though, specific certbot wildcards with nginx reverse proxies do what I need for ssl/https subdomains. I did not configure anything yet to make oo open to the outside.
Screenshot of OO NC App :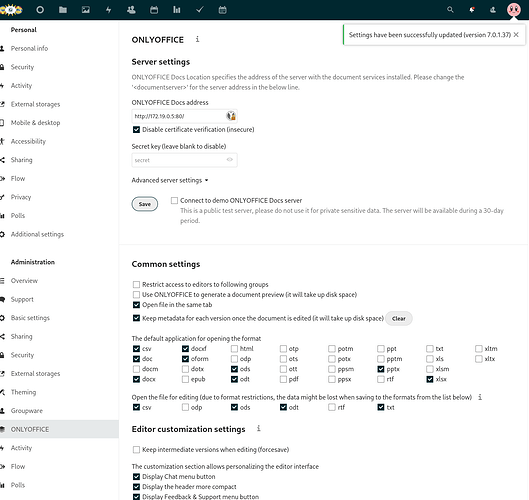 Also test server is « working » fine as I tested it in different browsers.
But still, when I'm in ittle red message appears saying ONLYOFFICE cannot be reached. Please contact admin ✖ on Nextcloud.
I made some research but couldn't find anything and tried to re-create and reinstall different ways to make oo work within nc.
I didn't want to configure oo to be open to the Internet (except within NC when I'm logged to NC), do you think this would be the problem ? Or anyhting else I did wrong ?
EDIT : I could not find anything relevant in my logs, but if needed I can grep or try looking for whatever you tell me to look at

Thanks a bunch again,
roz