Hi there,
I really searched for something like this but couldn't find another feature request for my problem.
A while ago I switched from Microsoft Excel to Google Sheets for a few projects because they have the feature to insert an image into a cell an not just align it with the cell. Currently I am trying to get completly rid of Microsoft office and Google Office but there is a problem.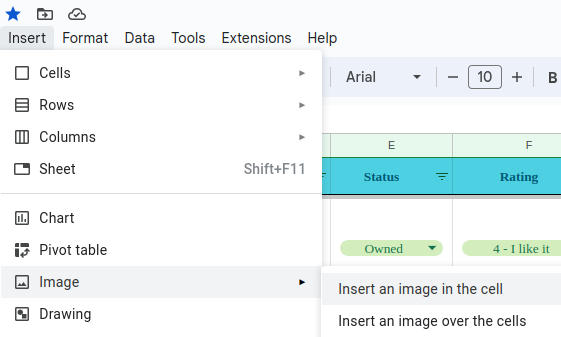 Only Office Spreadsheet does have a similar option which can move and resize an image with a cell but this is not the same.
What I would need is the following:
allow the insertion of an image inside a cell
allow the image to keep the aspect ratio
don't allow the image to go over the border of a cell.
Maybe there's a feature already implemented but I just couldn't find anything like this.
I don't know how hard it would be to implement such a feature or if anybody else is interested in such a feature. I really like onlyoffice as an alternative but this is sadly a deal-breaker for some of my tables.
Have a nice evening,
XOYZ
OS version: Manjaro Linux - Kernel: 6.1.38-1-MANJARO (64-bit)
App version: 7.4.0-1
Downloaded from: Manjaro Software Store - Package: onlyoffice-dektopeditors