ONLYOFFICE cloud: Business for NPOs
Do you want to: Suggest a feature / Ask a how-to question
I am the admin for an onlyoffice Business account that is used for the Mail & Document related work within a small to medium non-profit org. Since we did not want to send out internal documents to (poorly maintained) private mail accounts, every of our board members is registered in the portal with a mail address that is hosted on the onlyoffice platform.
Occasionally a member forgets his password and I need to be able to reset it. Unfortunately I can not change it directly but only send a mail to do so to the users internal mail address (which is not accessible at this moment…).
So I need to change the contact address first, then send the mail and change it back again.
==> Is there an easy way of resetting someones password as an admin? Would it be an option to add that possibility for the portal admin?
I imagine the option to set a password when clicking the "change Password" option in the persons-module.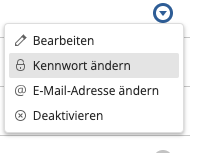 Hoping for your input on how to do it right or someone who'd like to tackle this issue with a pull request!


Best regards,
Ben