I update a Demo System from ONLYOFFICE 6.3 to 6.4.1-45 and have the effect, that the document will be opened but it can't be edited. A another system, also updated to 6.4.1-45 has any problem.
The problem only appears on word files. Powerpoint and Excel works fine.
What I already checked:
The License seems not the problem (Test the original license, our Development License and the Trail License)
I test the DE 5.4.1, EE 6.4.1 and the DE 6.4.2. Always the same effect
I test is as Windows Installation (only 6.4.2) and also with Docker (for Windows)
I checked the logs and the only difference I can find is, that is try to load a htmlutils.js file what is not available. The other system does not try to load this file.
2021/10/15 09:05:43 [error] 6262#6262: *26 open() "/var/www/onlyoffice/documentserver/web-apps/apps/common/main/lib/util/htmlutils.js" failed (2: No such file or directory), client: 172.17.0.1, server: , request: "GET //6.4.1-45/web-apps/apps/common/main/lib/util/htmlutils.js HTTP/1.1", host: "enaio-demo-1.ecmind.ch", referrer: "https://<host>/onlyoffice/6.4.1-45/web-apps/apps/documenteditor/main/index_loader.html?_dc=6.4.1-45&lang=en&customer=ONLYOFFICE&headerlogo=https%3A%2F%2F<host>%2Foffice%2Fassets%2Fecmind.svg&frameEditorId=editor&compact=true&parentOrigin=<host>&uitheme=default-light"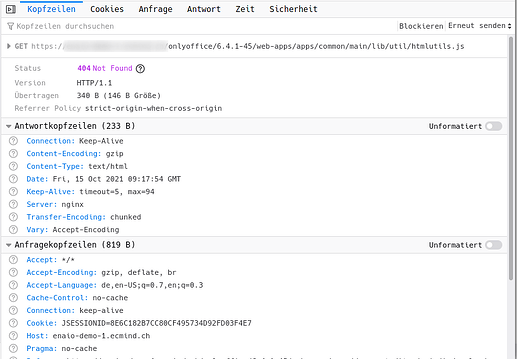 I also checked the editor configuration (jwt) but also here I can't find any difference.
Do you have any idea how i can debug this problem?
Best Regards
Uli