I have a clean install of Ubuntu 20.04, SELINUX not running.
I follow the instructions here using steps 1 and 2.
https://helpcenter.onlyoffice.com/installation/groups-install-ubuntu.aspx
The install fails while MYSQL is being accessed to configure the communityserver
mysql error log attached and screen shot of failure point during the install.
Its connected to this issue with how Onlyoffice is using MYSQL
Help appreciated.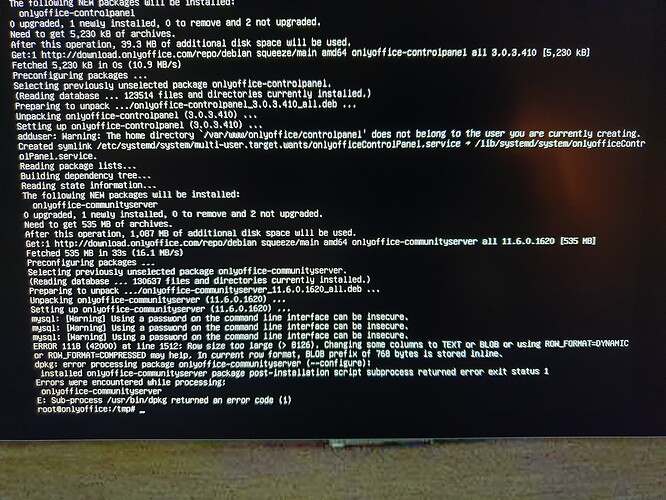 ----------------- MYSQL e2022-04-28T18:19:59.253089Z 0 [System] [MY-013169] [Server] /usr/sbin/mysqld (mysqld 8.0.29) initializing of server in progress as process 15469
2022-04-28T18:19:59.335117Z 1 [System] [MY-013576] [InnoDB] InnoDB initialization has started.
2022-04-28T18:20:14.286200Z 1 [System] [MY-013577] [InnoDB] InnoDB initialization has ended.
2022-04-28T18:20:44.312610Z 6 [Warning] [MY-010453] [Server] root@localhost is created with an empty password ! Please consider switching off the --initialize-insecure option.
2022-04-28T18:21:58.243675Z 0 [System] [MY-010116] [Server] /usr/sbin/mysqld (mysqld 8.0.29) starting as process 15519
2022-04-28T18:21:58.326972Z 1 [System] [MY-013576] [InnoDB] InnoDB initialization has started.
2022-04-28T18:21:59.510962Z 1 [System] [MY-013577] [InnoDB] InnoDB initialization has ended.
2022-04-28T18:22:01.244116Z 0 [Warning] [MY-010068] [Server] CA certificate ca.pem is self signed.
2022-04-28T18:22:01.244178Z 0 [System] [MY-013602] [Server] Channel mysql_main configured to support TLS. Encrypted connections are now supported for this channel.
2022-04-28T18:22:01.463923Z 0 [Warning] [MY-011810] [Server] Insecure configuration for --pid-file: Location '/tmp' in the path is accessible to all OS users. Consider choosing a different directory.
2022-04-28T18:22:01.714101Z 7 [System] [MY-013172] [Server] Received SHUTDOWN from user boot. Shutting down mysqld (Version: 8.0.29).
2022-04-28T18:22:01.715566Z 0 [System] [MY-011323] [Server] X Plugin ready for connections. Bind-address: '::' port: 33060, socket: /var/run/mysqld/mysqlx.sock
2022-04-28T18:22:06.478775Z 0 [System] [MY-010910] [Server] /usr/sbin/mysqld: Shutdown complete (mysqld 8.0.29) MySQL Community Server - GPL.
2022-04-28T18:22:08.565311Z 0 [System] [MY-010116] [Server] /usr/sbin/mysqld (mysqld 8.0.29) starting as process 15715
2022-04-28T18:22:08.702048Z 1 [System] [MY-013576] [InnoDB] InnoDB initialization has started.
2022-04-28T18:22:09.890993Z 1 [System] [MY-013577] [InnoDB] InnoDB initialization has ended.
2022-04-28T18:22:10.878308Z 0 [Warning] [MY-010068] [Server] CA certificate ca.pem is self signed.
2022-04-28T18:22:10.878367Z 0 [System] [MY-013602] [Server] Channel mysql_main configured to support TLS. Encrypted connections are now supported for this channel.
2022-04-28T18:22:10.912868Z 0 [System] [MY-011323] [Server] X Plugin ready for connections. Bind-address: '::' port: 33060, socket: /var/run/mysqld/mysqlx.sock
2022-04-28T18:22:10.912930Z 0 [System] [MY-010931] [Server] /usr/sbin/mysqld: ready for connections. Version: '8.0.29' socket: '/var/run/mysqld/mysqld.sock' port: 3306 MySQL Community Server - GPL.
2022-04-28T18:41:57.387998Z 0 [System] [MY-013172] [Server] Received SHUTDOWN from user . Shutting down mysqld (Version: 8.0.29).
2022-04-28T18:41:58.600561Z 0 [System] [MY-010910] [Server] /usr/sbin/mysqld: Shutdown complete (mysqld 8.0.29) MySQL Community Server - GPL.
2022-04-28T18:41:59.132404Z 0 [Warning] [MY-010918] [Server] 'default_authentication_plugin' is deprecated and will be removed in a future release. Please use authentication_policy instead.
2022-04-28T18:41:59.132437Z 0 [System] [MY-010116] [Server] /usr/sbin/mysqld (mysqld 8.0.29) starting as process 30318
2022-04-28T18:41:59.134243Z 0 [Warning] [MY-013242] [Server] --character-set-server: 'utf8' is currently an alias for the character set UTF8MB3, but will be an alias for UTF8MB4 in a future release. Please consider using UTF8MB4 in order to be unambiguous.
2022-04-28T18:41:59.134256Z 0 [Warning] [MY-013244] [Server] --collation-server: 'utf8_general_ci' is a collation of the deprecated character set UTF8MB3. Please consider using UTF8MB4 with an appropriate collation instead.
2022-04-28T18:41:59.144999Z 1 [System] [MY-013576] [InnoDB] InnoDB initialization has started.
2022-04-28T18:42:00.705767Z 1 [System] [MY-013577] [InnoDB] InnoDB initialization has ended.
2022-04-28T18:42:01.685448Z 0 [Warning] [MY-010068] [Server] CA certificate ca.pem is self signed.
2022-04-28T18:42:01.685508Z 0 [System] [MY-013602] [Server] Channel mysql_main configured to support TLS. Encrypted connections are now supported for this channel.
2022-04-28T18:42:01.721191Z 0 [System] [MY-011323] [Server] X Plugin ready for connections. Bind-address: '::' port: 33060, socket: /var/run/mysqld/mysqlx.sock
2022-04-28T18:42:01.721233Z 0 [System] [MY-010931] [Server] /usr/sbin/mysqld: ready for connections. Version: '8.0.29' socket: '/var/run/mysqld/mysqld.sock' port: 3306 MySQL Community Server - GPL.
2022-04-28T18:45:34.085614Z 10 [ERROR] [MY-011825] [InnoDB] Cannot add field introduction in table onlyoffice.mail_mail because after adding it, the row size is 8607 which is greater than maximum allowed size (8126) for a record on index leaf page