Do you want to: Ask a how-to question
Document Server version: 7.0.0.133
Type of installation of the Document Server: Linux port
OS: FREEBSD 12.2
Browser version: Firefox 96.0.3
I successfully installed onlyoffice-documentserver in a FreeBSD 12.2 jail using the port that Mikael Urankar made available through the official FreeBSD ports website (FreshPorts -- www/onlyoffice-documentserver: Secure office and productivity apps )(i know freebsd is not officially supported but please hear me out).
When i point my browser to my onlyoffice server's ip address (in my case http://10.0.0.24) i am greeted by the onlyoffice welcome page indicating that the document server is running properly as follows: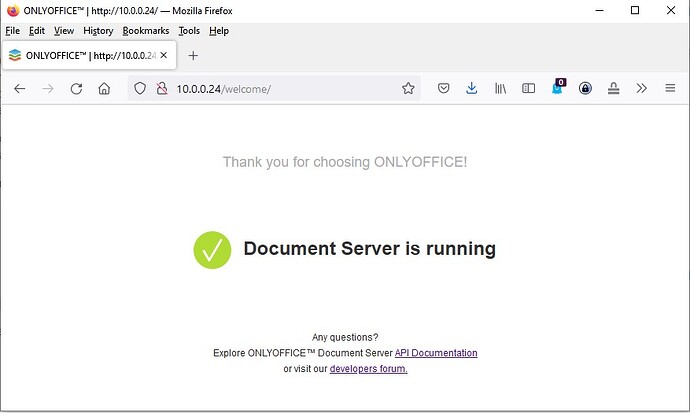 Now, how do i get from here to the onlyoffice portal so i can restrict access to the server, manage users and to access online editors?
This is my first time experimenting with onlyoffice so, please, feel free to point me to another forum thread that is relevant to this problem (i honestly could not find one).