Hi again, my installation in docker via script, under ubuntu 22.04 and here are my questions:
1. My Twitter API integration wroks for login, but does not work under the CRM module, as I get the following error: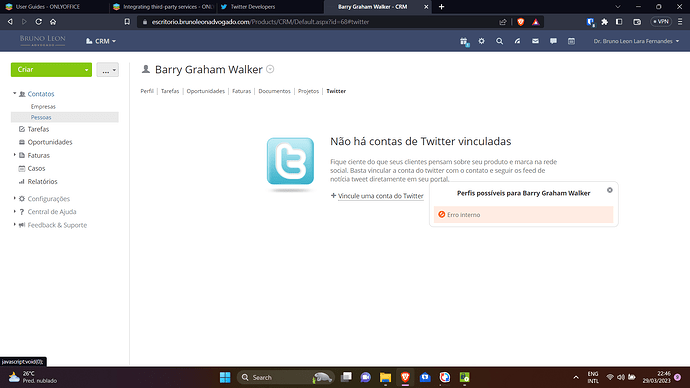 It says "internal error" in brazilian portuguese. I've even upgraded to the basic plan in Twitter Developers, but it does not work;
2. Regarding the Clickatell integration , it does work to send the SMS for the 2FA, which is great as I am now inviting my clients to the portal. However, the SMS the sender is allways " "27573", is it not possible to change it to my portal name? Is this sender detemined by Onyoffice or by Clickatell?
3. My last question is not really related to API integrations, but my problem is that I whish to have my clients online on Talk, speaking to my team, but I do not want to have them speaking with each other, is there any way to limit/prevent that? I tried everything, but I could not find it under any settings.
Thanks in advance.
Reards,
Bruno Leon