Hello @bilboox
To start off please execute a certain script from your machine where Document Server is installed:
For Windows execute documentserver-update-securelink.bat script that is located in C:\Program Files\ONLYOFFICE\DocumentServer\bin
For Linux execute command bash documentserver-update-securelink.sh
In case it didn't solve the problem please share next information:
version of Document Server;
server OS type where Document Server is installed;
version of Nextcloud;
version of connector app;
log files of Document Server located in /var/log/onlyoffice/documentserver/ for Linux or C:\Program Files\ONLYOFFICE\DocumentServer\Log for Windows.
Waiting for your feedback.
Yes that was fine, I ran the script and everything worked fine afterwards Thank You !
Muchas gracias, si funciono, dure horas buscando la solucion.

Hello @wexjordan and welcome to the forum.
Please feel free to contact us if you face any issues.
I got same error on my nextcloud Version 25. i used connector version 7.8 and document server version 7.2. i can access document server via http://10.1.0.15/, and nextcloud server http://10.1.0.10. But i can't connect onlyoffice integration on nextcloud. Kindly help me when you free. Thanks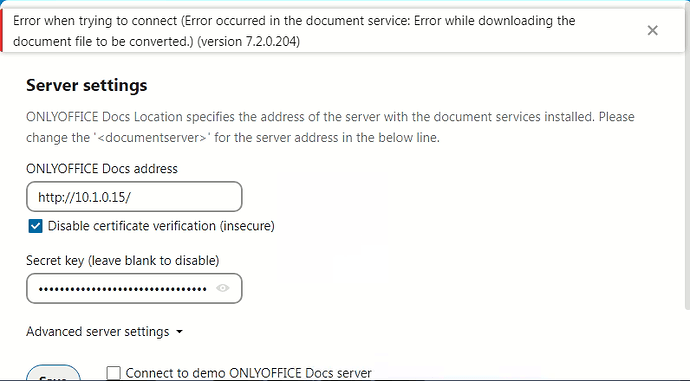 Please do not duplicate posts in several threads. I've answered you in the other thread: